Browning Rage Compound Bow Review
Browning Rage Compound Bow Review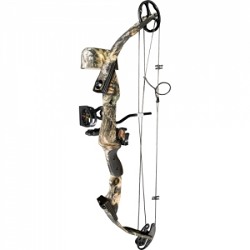 A Legendary Name for Taking Big Game
Browning is a legendary leader in the weapon industry. This storied company turned their attention to compound bows some time ago, and has been turning out products that are a credit to their reputation. The Browning Rage Compound Bow is no exception, and its claim to the family fame is that it delivers a very proficient bow employing high-quality components throughout, but is offered at a price some might consider entry level. Beginning hunters will naturally gravitate to this bow, but seasoned vets will find the Rage to be up to their standards, too. The field ready set up is easy to master, with a few adjustment provided to fit individual draw length and bow positioning.
The machined aluminum riser of the Browning Rage compound bow provides stability in each release, and durability for years to come. The cam system is quiet and efficient, while the VibraCheck grip reduces vibration, making this a good choice for the hunter who loves target practice almost as much as the hunt, and doesn't want sore hands after 50 to 100 shots. Hunters with arthritis may also appreciate the VibraCheck technology. The 4.2 lb Rage is available with draw weights of 50, 60, and 70 lbs, all dressed in camouflage finish the makes it disappear in the woods. Get in the hunt with a Browning Rage for Sale from $199 to $299, with used and new models available. If a Browning Rage Compound bow is not for you consider other bows.
Browning Rage Specs
Browning Rage Compound Bow On Ebay
No items matching your keywords were found.

More Browning Compound Bow Reviews
| | |
| --- | --- |
| | The Browning Illusion Compound Bow is a high performance bow with a bounty of great features compared to its predecessors. |
| | Archery is a sport that appeals to a diversified age group, the young, the old, and in-between. One compound bow manufacturer has recognized the need for a compound bow suitable for the young archer. |
| | The Browning Mirage Compound Bow is about as good as they get in the bow hunting world. It is light, powerful, and accurate. This bow is field ready out of the box and it just screams of performance. |
Browning Rage Compound Bow Review