Browning Illusion Compound Bow Review
Browning Illusion Compound Bow Review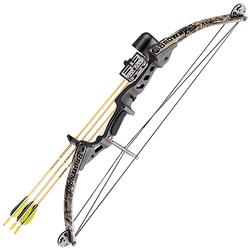 The Browning Illusion Compound Bow is a high performance bow with a bounty of great features compared to its predecessors. While the Browning Illusion Compound Bow still comes equipped with some of the previous legendary options, that were available with older models of compound bows, there have been many significant and useful features added to the Browning Illusion bow.
The Browning Illusion Compound Bow has a fiber optic sight for impeccable targeting and long rang views, a Mongoose peep sight, a Mongoose bow quiver that attaches directly to the bow to make hiking or carrying more convenient, a Nocking loop installed on the string, and a Whisker Biscuit QS arrow rest that allows for near perfect aim and accuracy every single time. This bow also comes equipped with the Trance cam, the all new Vibracheck Backstop string stopper, a proprietary asymmetric idler wheel that keeps the string and cam in line with one another all the way through the draw, and the Hyperlite Unibody Pockets allow everything to maintain close alignment for extreme accuracy every time. The Browning Illusion Compound Bow also has a rather stylish and fully machined checkered and wood paneled ergonomic hand grip for added comfort, a fully machined aluminum riser, and a Vibracheck hush kit that comes already installed on the bow and ready to use.
Among the many other great feature of the Browning Illusion Compound Bow, it also has a brace height of 6 ½ inches and it is 33 ½ inches from axle to axle. This bow has an amazing draw length of 25 inches to 30 inches, has a let off Trance of 65 percent to 80 percent, 12 ½ inch boat-tail limbs, a cam lock cable guard, and an extraordinary I.B.O. Speed of approximately 318 to 326 fps. Not to mention, the Browning Illusion Compound Bow also has a draw weight and weight adjustability of 70 pounds.
The Browning Illusion Compound Bow is the perfect buy for those looking for quality an efficacy. With the Browning Illusion ranging from as low as $559, this bow is more than worth the purchase.
Browning Illusion Compound Bow Deals On Ebay
More Browning Compound Bow Reviews
| | |
| --- | --- |
| | Archery is a sport that appeals to a diversified age group, the young, the old, and in-between. One compound bow manufacturer has recognized the need for a compound bow suitable for the young archer. |
| | The Browning Mirage Compound Bow is about as good as they get in the bow hunting world. It is light, powerful, and accurate. This bow is field ready out of the box and it just screams of performance. |
| | This storied company turned their attention to compound bows some time ago, and has been turning out products that are a credit to their reputation. |
Browning Illusion Compound Bow Review