Browning Mirage Compound Bow Review
Browning Mirage Compound Bow Review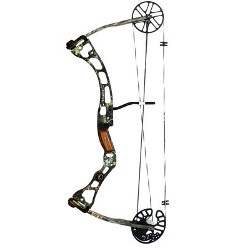 The Browning Mirage Compound Bow is about as good as they get in the bow hunting world. It is light, powerful, and accurate. This bow is field ready out of the box and it just screams of performance. The power comes from Browning's trademarked Trance Cam design that allows the bow to release at IBO speeds of 307 – 315 fps with a let-off adjustment of 80% - 65%. The draw length can also be adjusted up to 6 inches without the use of a bow press.
The Browning Mirage is perfect for tree-stand hunting. It measures just 29 ¾ inches from axle-to-axle. This compact design allows for operation in restricted areas without giving away position. The brace height is measured at 7 ½ inches. The weight comes in at precisely 4.1 pounds. Besides the compact and lightweight design, this bow is also feather quiet, further helping to keep position unidentifiable.
As for the manufacture of the Browning Mirage Bow, the riser is constructed of machined aluminum. There are nine cutouts in the body that reduce weight without affecting the strength of the design. The grips are fully machined from the riser and are supported with wood on both sides that makes it perfectly comfortable in the hands. The limbs are built to CNC machining standards and are extremely durable as stress is equally distributed throughout. In addition, an asymmetric idler wheel gives the bow a smooth draw that is uniform from start to finish. To finish it off, the Hyperlite Unibody limb pocket ensures limb alignment for increased accuracy.
Browning has always been a standard and leader in bow design and the Browning Mirage is no exception. This bow will attract not only tree-stand hunters because of its weight and size, but also target and 3D shooters for its speed and mechanics.
Browning Mirage Compound Bow On Ebay.
More Browning Compound Bow Reviews
| | |
| --- | --- |
| | The Browning Illusion Compound Bow is a high performance bow with a bounty of great features compared to its predecessors. |
| | Archery is a sport that appeals to a diversified age group, the young, the old, and in-between. One compound bow manufacturer has recognized the need for a compound bow suitable for the young archer. |
| | This storied company turned their attention to compound bows some time ago, and has been turning out products that are a credit to their reputation. |
Browning Mirage Compound Bow Review