Browning Micro Midas 3 Compound Bow Review
Browning Micro Midas 3 Compound Bow Review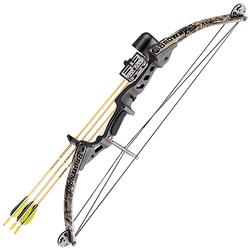 Archery is a sport that appeals to a diversified age group, the young, the old, and in-between. One compound bow manufacturer has recognized the need for a compound bow suitable for the young archer. With the design of the Browning Micro Midas 3 Compound Bow, Browning has fulfilled a need and closed a gap.
The Browning Micro Midas 3 is designed with the young archer in mind. Available in two different draw weights, 20 to 30 pounds and 30 to 40 pounds, this compound bow offers more versatility. It has a good range of draw length adjustment at 10 inches, as well as a ten-pound weight adjustment. These adjustments make the Browning Micro Midas 3 suitable for a larger range of young archers. The draw length is easy to adjust, and the smooth drawing cam provides good let off with 70 percent effective let off and 65 percent actual let off. Designed with a 32" axle-to-axle length and a brace height of 6 ½ inches, plus a speed of 279 to 271 fps, the Browning Micro Midas 3 will appeal to any young archer.
Built with all the features and quality of an adult bow, the Browning Micro Midas 3 is an excellent choice as a starter bow for the young archery enthusiast. The Micro Midas 3 is available in Mossy Oak Breakup Camel or competition pink. The bow kit comes complete with fiberglass arrows, a sight, and a plastic tab rest. The Browning Micro Midas is available for both left and right hand archers.
Browning has long stood a tradition of reliability and innovation in their compound bows. The Browning Micro Midas 3 compound bow is another quality compound bow from Browning, tailored for the young archer to grow with.
Browning Micro Midas 3 Compound Bow Deals On Ebay.
More Browning Compound Bow Reviews
| | |
| --- | --- |
| | The Browning Illusion Compound Bow is a high performance bow with a bounty of great features compared to its predecessors. |
| | The Browning Mirage Compound Bow is about as good as they get in the bow hunting world. It is light, powerful, and accurate. This bow is field ready out of the box and it just screams of performance. |
| | This storied company turned their attention to compound bows some time ago, and has been turning out products that are a credit to their reputation. |