Hoyt Trykon Compound Bow Review
Hoyt Trykon Compound Bow Review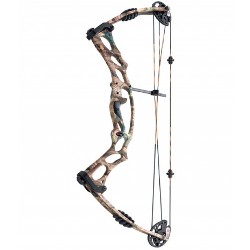 The Hoyt Trykon compound bow brings you the quality, quick release, and noise reduction you expect from industry leader, Hoyt. Hoyt's Trykon compound bow design reduces noise by a full five decibels and vibration by up to 15%, and increases speed by up to 10 fps.
Hoyt offers two Trykon compound bow options to fit your hunting needs: the Hoyt Trykon and the Trykon XL. Both benefit from Hoyt's signature XT500 split limbs and hybrid CAM & ½s. The XT 500 limbs, coupled with FUSE Custom String System's Continuous Tension Technology's more than 700 pounds of tension, help increase performance and accuracy. The Trykon sports a 33" axle to axle span, while the Trykon XL offers a longer, 36" span. The Hoyt Trykon offers an IBO speed of 214 fps, while the Trykon XL is rated at 314 fps. Both have draw weights ranging from 40-80#, and a brace height of 7". The Trykon has a draw length of 25-31", while the Hoyt Trykon XL has a 26-32" draw length. You can find both Trykon's in RealTree Hardwoods Green HD.
Hoyt also offers the Hoyt Trykon Sport and the Hoyt Trykon Jr. for younger archers. The Hoyt Trykon Sport compound bow has an IBO speed of 290 fps, while the Jr. is rated to 255 fps. The Sport's axle to axle span is 30", while the Jr.'s is a more compact 20.5". Both have a brace height of 6.5". The Sport is slightly heavier, at 3.2 lbs. compared to the Jr.'s 2.7 lbs. The Sport has a draw weight of 20-50#, while the Jr.'s ranges from 10-40#. The Sport has a draw length of 23-28.5", compared to the Jr.'s 17-25". The Hoyt Trykon Sport is equipped with composite ZR 12 split limbs, while the Trykon Jr. sports YZ 50s. The Sport's CAM & ½ plus system enjoys all the benefits of the previous CAM & ½ with the added benefit of greater accuracy and performance to help build confidence. The Jr.'s Versa CAM & ½ is perfect for young archers, offering a total of 9" of adjustment on the draw length in 1" increments with the accuracy you expect from the CAM & ½ system. Want to read more on the Hoyt Trykon and download a Bow Report. Read more reviews at Archeryaddict.com. If you have not found the compound bow your looking for shoot us an email and we will review that bow ASAP.
Hoyt Trykon Compound Bow on eBay
More Hoyt Compound Bow Reviews
| | |
| --- | --- |
| | Hoyt has been in the business of making reliable high-quality bow hunting equipment for a long time. They dont just rest on their laurels, though, they constantly strive to improve and refine their product. |
| | The First Choice in Innovation. The Hoyt Company was into archery long before they started turning out weapons for hunting. That tells you something about the genetics of their line of compound bows: |
| | Breaking down this compound bow's name will tell you most of what you need to know. The Hoyt AlphaMax 35 is one of Hoyt's finest products. |
Hoyt Trykon Review