Hoyt Alphamax 35 Compound Bow Review
Hoyt Alphamax 35 Compound Bow Review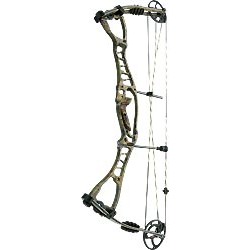 Extending the Best Reputation in the Woods
Breaking down this compound bow's name will tell you most of what you need to know. The Hoyt AlphaMax 35 is one of Hoyt's finest products. Earl Hoyt, the patriarch of the clan, began a tradition of integrity, quality and performance. AlphaMax bespeaks the reality that this is the top of the line bow delivered by this company. It is first class, with maximum performance built into every component. The "35" is the length, an extended version of the highly acclaimed 32-inch standard AlphaMax. The added length provides greater balance and stability, plus delivering an extended brace height for optimum control and comfort.The Hoyt AlphaMax 35 boasts the brand new Tec Lite Riser for lightweight speed, power and accuracy. Custom engineering in the patented XTR Cam and ½ Performance System stores and releases energy in the XTS 500 limbs with smooth, quiet efficiency. Choose draw weights from 40lbs to 80lbs, with a peak velocity of 316 feet per second. The ½ modular draw length adjustment gives customized comfort, so one shot in the woods or 100 shots at the range will be delivered with comfort and no fatigue. At just 4.1 lbs, the "35" won't wear you out packing it in, or holding it at draw waiting for a shot at the big buck's vitals. Used Hoyt AlphaMax 35 s run $350 to $375, while new bows cost $879 and up.
Hoyt Alphamax 35 Compound Bow On eBay
No items matching your keywords were found.

More Hoyt Compound Bow Reviews
| | |
| --- | --- |
| | Hoyt has been in the business of making reliable high-quality bow hunting equipment for a long time. They dont just rest on their laurels, though, they constantly strive to improve and refine their product. |
| | The Trykon compound bow brings you the quality, quick release, and noise reduction you expect from industry leader, Hoyt. |
| | The First Choice in Innovation. The Hoyt Company was into archery long before they started turning out weapons for hunting. That tells you something about the genetics of their line of compound bows: |
Hoyt Alphamax 35 Compound Bow Review