Hoyt Katera Compound Bow Review
Hoyt Katera Compound Bow Review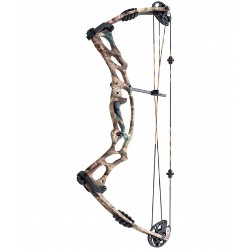 Hoyt has been in the business of making reliable high-quality bow hunting equipment for a long time. They dont just rest on their laurels, though, they constantly strive to improve and refine their product. So it is with the new model Hoyt Katera. A sturdy and attractive bow, the Katera delivers industry standard performance at a reasonable price.
The Hoyt Katera is not a stripped-down lightweight. At 4.5 pounds it is also not a heavyweight. At this size, Hoyt has packed a lot of features into the Katera. One of the most noticeable differences from other makers bows is the TEC riser system. This unique device dampens vibrations directly through the truss instead of through the handgrip. Another noticeable innovation is the SplitLimb system. Resulting in a limb that is 2.25 inches wide, it enhances both torsional and lateral stability in the limbs.
The limbs are capped with Z3 cams whose axles are 33 inches apart. This enables the Hoyt Katera to deliver a very fast 330 fps speed, enhancing both accuracy and killing power. The draw length is adjustable from 24 to 30 inches. The draw weight can also be adjusted from 40 to 80 pounds. The result is a high-performance bow which can accommodate almost any hunter.
For comfort and accuracy, the Hoyt Katera comes equipped with dual RizerShox and AlphaShox limb dampers. Combined with the patent-pending StealthShot string suppression system this results in one of the quietest and easy to use bows on the market. No more loud twang scaring away half the wildlife in the county. Just the swish of the arrow and the thud of falling game.
Following the company tradition of giving the customer what they want, the Hoyt Katera comes in a number of colors and camo patterns. Although appearance will rarely trump performance in a hunting tool, the owner of this bow will have to get used to admiring looks from other hunters. Attention to detail and craftsmanship are a hallmark of Hoyt equipment. Its nice to see that they are carrying that tradition well into the 21st century.
Hoyt Katera Compound Bow On Ebay
More Hoyt Compound Bow Reviews
| | |
| --- | --- |
| | The Trykon compound bow brings you the quality, quick release, and noise reduction you expect from industry leader, Hoyt. |
| | The First Choice in Innovation. The Hoyt Company was into archery long before they started turning out weapons for hunting. That tells you something about the genetics of their line of compound bows: |
| | Breaking down this compound bow's name will tell you most of what you need to know. The Hoyt AlphaMax 35 is one of Hoyt's finest products. |
Hoyt Katera Compound Bow Review