Martin Firecat Compound Bow Review
Martin Firecat Compound Bow Review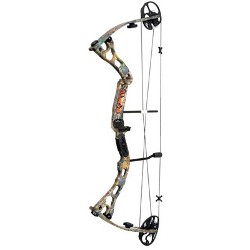 Martin Archery continues their tradition of excellence and innovation with the Martin Firecat Pro-X Compound Bow. Originally released in 2008, it confirmed that Martin Archery produces the ultimate compound bow when it became one of the top selling compound bows for the year.
The Martin Firecat Pro-X Compound Bow returned in 2009 maintaining all the excellent features that made it excel in 2008. However, Martin Archery added another bonus to the bow's already superb features with the exclusive Cable Containment System (CCS). The CCS system secures both control cables in a singular offset position, lodging them in place. This produces a smoother, quieter, shot with less vibration.
With a let-off of 80 percent, the Martin Firecat Pro-X Compound Bow insures accuracy when you most need it. The draw weights of 60 and 70 pounds make it a versatile compound bow, suiting a wide range of archers. An fps of 335 to 345 makes the Firecat X-Pro super smooth and fast. With a total weight of only 3.55 pounds, the Martin Firecat X-Pro Compound Bow is one of the easiest to carry without concern for fatigue.
The Cam Actuated Timing (CAT) Hybrid Duo Cam is another element of the Martin Firecat Pro-X that moves it up in class. Used to bind the cams together at all times, the result is superior synchronization, producing lightning fast arrow speeds that will impress any archer. The Double Helix Elite strings, recognized for exceptional strength and speed, are pre-stretched before, during, and after serving.
The three-part lamination guarantees durability and unsurpassed strength on the Firecat Pro-X, two elements every archer looks for in a bow.
If you are looking for a compound bow that assures success in the field and on the archery range, you need not look further than the Martin Firecat Pro-X Compound Bow. Martin Archery has secured another winner with the Martin Firecat Pro-X. Their tradition of excellence is evident in every feature.
Martin Firecat Compound Bow On Ebay
More Martin Compound Bow Reviews
| | |
| --- | --- |
| | Martin Archery started out almost 60 years ago. They had a mission from the beginning: to provide the best hunting equipment possible at reasonable prices. Their current motto is, "The fastest and most accurate bows in the world. |
Martin Firecat Compound Bow Review