Martin Warthog Compound Bow Review
Martin Warthog Compound Bow Review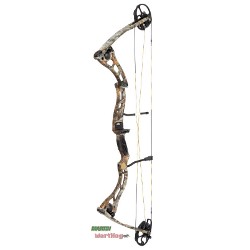 Martin Archery started out almost 60 years ago. They had a mission from the beginning: to provide the best hunting equipment possible at reasonable prices. Their current motto is, "The fastest and most accurate bows in the world." This seems like boasting until you have tried the brand-new Martin Warthog compound bow.
Lets not mince words. Speed is the issue here. There are a lot of excellent bows out there shooting in the 320 to 330 fps range. Martin even makes some of them. But the new Martin Warthog compound bow can deliver a sizzling 350 fps. This is a nearly 20 per cent increase in energy over a 320 fps bow. That is not something to be sneezed at. Whether in a blind, or a stand, or stalking the highlands, this bow can give you down-range killing power that you never expected.
How does the Martin Warthog compound bow deliver such performance? A look at the specs will spell it out. The bow is not a heavyweight. It tips the scales at a mere 3.85 pounds. The axle to axle distance is 35 inches. Draw weight is 60 or 70 pounds. Draw is 27 to 31 inches. The key to its blazing speed is the C.A.T. Hybrid Duo Cam system. Combine these with the decades of real-world experience at Martin, which reaches from the production room right up to the top ownership, and youve got the ingredients for a terrific hunting tool.
The Martin Warthog compound bow is meant to be a hunting tool. It combines ruggedness and advanced design in a good-handling, flat shooting, hard hitting machine. It combines all the latest elements of vibration suppression and damping with a silencing system that is second to none. The bow is quiet and smooth-shooting. After your release the next sound you will hear is the thud of the game hitting the ground. Choosing to carry a Martin Warthog into the field isnt just smart, it lets the other guys know youre a serious and experienced archer who expects to bring home the bacon.
Martin Warthog Compound Bow On Ebay
No items matching your keywords were found.

More Martin Compound Bow Reviews
| | |
| --- | --- |
| | Martin Archery continues their tradition of excellence and innovation with the Firecat Pro-X Compound Bow. Originally released in 2008, it confirmed that Martin Archery produces the ultimate compound bow when it became one of the top selling compound bows for the year. |
Martin Warthog Compound Bow Review