PSE Nova Compound Bow Review
PSE Nova Compound Bow Review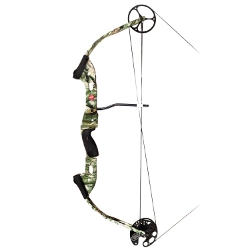 The PSE Nova Compound Bow is an excellent choice for archery enthusiasts of any age or experience level. It offers a revolutionary design idea that allows for adjustment of draw back and weight that spans a wide enough gap that this bow becomes suitable for young beginners or skilled hunters alike. The PSE Nova Compound bow has been created with comfort and ease of use in mind. With it's easy to handle configuration and adjustable settings, the PSE Nova is one of the best-selling bows among hunters and archers. The light weight and adjustability make this bow is especially well suited for those hunters who often hike for extended periods before reaching their favorite hunting grounds.
The PSE Nova compound bow is shipped with a standard 29 inch draw setting, but can be easily adjusted to fit anyone. The draw length of the PSE Nova can be tailored from 27 inches to 30 inches with an easy to use inner module. If you need a shorter draw length than 27 inches, you have the option to purchase an additional adjustment module that allows for a draw length of 25 inches to 28 inches. All adjustments are easily made, without the use of a bow press simply by using their modules. This bow is available in 50, 60, or 70 draw weights, so even a learning beginner should have no trouble with this compound bow.
The entire PSE Nova Compound bow weighs a mere 3.8 lbs. which makes it ideal for long treks or hunting expeditions and the Vibracheck rubber grip gives you superior handling quality. The smooth draw cycle and IBO speed of up to 303 fps have made this bow one of the company's longest running styles and most purchased by hunters. It comes completely assembled and ready to shoot straight out of the box, adding to the ease and accuracy of the bow. It offers machined aluminum risers for optimal durability in the field and has a factory installed sight.
The superior ease and quietness with which the PSE Nova Compound Bow performs makes it a valuable tool for hunters. Add to that the lightness in weight and adjustability for draw length, and you've got a keeper. Suitable for beginners to experienced hunters, and highly accurate and easily tunable for practice shooting, this bow is a perfect option for any archer. The PSE Nova Compound Bow is powerful enough to get the job done and easy enough to use that it's not a burden to pack with or in sudden sightings.
PSE Nova Compound Bow Specifications
If the PSE Nova Compound Bow is not what your looking for check out our other reviews.
Buy your PSE Nova Compound Bow on eBay Today!
PSE Nova Compound Bow Review