PSE Madness XS Compound Bow Review
PSE Madness XS Compound Bow Review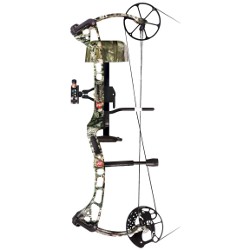 Just when you think you've seen it all as far as compound bows go, Precision Shooting Equipment revolutionizes one of their best selling models. The
PSE Madness XS
compound bow is the most comfortable, high performance compact compound bows you can find. With the
PSE Madness XS
compound bow, there's no need to compromise speed and accuracy for the sake of portability. This compact compound bow has it all and can be equipped with a field kit that includes all of the peripherals you need to make your next outing a success!

Compact and Lightweight
At just 4.2 pounds and with an axle to axle length of 29¼", the PSE Madness XS compound bow is one of the most lightweight options on the market today. Easy to carry and maneuver, this state of the art compact compound bow really delivers!
Smooth Delivery, Unbeatable Speed
The PSE Madness XS compact compound bow is incredibly smooth thanks to its VibracheckTM Backstop, which instantly eliminates string vibrations. As if that wasn't enough, Precision Shooting Equipment's Madness XS includes stainless steel stabilizer bushing to make this the smoothest compact compound bow yet. With speeds rated between 312 (IBO) and 320 (ATA) feet per second, the PSE Madness XS's compact design stays competitive.
Extreme Comfort and Tunability
With a let-off range of 65% to 80%, the PSE Madness XS can be easily adjusted to every archer's needs. Whether you're hoping to earn a trophy for a great shot at just 65% let-off, or aiming to make the most of this bow's draw weight, this compound bow hits the mark. The PSE Madness XS bow permits ½" adjustments without requiring the use of a bow press thanks to its recently improved, trademark Madness Pro Posi-lock inner cam, for the most mobile on the spot fine tuning ever, even in the field. Draw lengths range from 27" to 30" for a comfortable fit that permits the most accurate shots time and again. Plus, the low torque grip means you're in control even under the most challenging conditions.
Optimum Design in Just the Right Size
The PSE Madness XS compound bow is available in right- and left-handed versions, with three alternatives for draw weights: 50, 60, and 70 pounds. Hands down, this is one of the most versatile compact compound bows available. The Mossy Oak Break Up Infinity Camo color provides full coverage for bow hunters and a serious yet stylish finish for competitive archers.
Top Notch Accessories
The PSE Madness XS compact compound bow can be further personalized with a number of accessories that will help each shot hit its target. Professional grade accessories include the Flexxstretch Stabilizer, Aries Sight, Peep Sight, Tru-Fire Hurricane Release, QS Whisker Biscuit, Nock Loop, PSE Neoprene Sling, Supreme Bowcase, Mongoose Quiver, and four Carbon Force Hunter Arrows.
Precision Shooting Equipment has really outdone itself with this example of compound bow perfection. This compact, precision tool delivers high accuracy shots at astounding speeds!

PSE Madness XS Bow
List Price: $499.99
Shipping: 18.95
Availability: in-stock
PSE Madness XS Compound Bow on eBay
More PSE Compound Bow Reviews



The PSE Nova compound bow is an excellent choice for archery enthusiasts of any age or experience level. It offers a revolutionary design idea that allows for adjustment of draw back and weight that spans a wide enough gap that this bow becomes suitable for young beginners or skilled hunters alike. PSE Compound Bows




PSE Chaos

Description Coming Soon




Just when you think you've seen it all as far as compound bows go, Precision Shooting Equipment revolutionizes one of their best selling models. The PSE Madness XS compound bow is the most comfortable, high performance compact compound bows you can find.
PSE Madness XS Compound Bow Review