PSE Madness XL Compound Bow Review
PSE Madness XL Compound Bow Review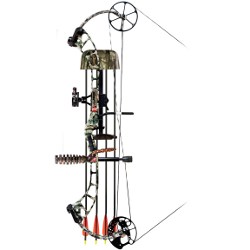 The
PSE Madness XL
Compound Bow offers the latest in noise reduction technology coupled with the smooth accuracy and lightning speed Precision Shooting Equipment compound bows are famous for.
Exceptional Noise Reduction
The PSE Madness XL compound bow comes equipped with PSE's patented VibracheckTM Backstop. This revolutionary backstop reduces unnecessary string vibrations by literally stopping the string in its tracks. Not only does this all but eliminate the sound of the string's reverberations, it also absorbs the shock of the release, making for the smoothest, quietest shot each and every time. For even greater noise control, the PSE Madness XL also includes Vibracheck limb bands that do double duty by reducing shock and increasing precision control.
Easy Adjustments, Effortless Speed
PSE Bow Madness XL Specs
The PSE Madness XL's single cam sports a revamped design for even greater speed. The Posi-lock inner cam offers draw lengths of 25" to 30". Compared to dual cams, the popular single cam design offers the quickest, easiest adjustments without compromising speed. Bow hunters and 3D archers alike will appreciate that fine tuned 1/2" draw length adjustments can be made without using a bow press, so adjustments can be made quickly and effortlessly as needed when conditions change. Thanks to its 75% let-off, the PSE Madness XL boasts speeds of up to 332 (IBO) to 340 feet per second (ATA), a feat rarely accomplished with such a light draw weight.
Unparalleled Accuracy
The PSE Madness XL's B.E.S.T. RaptorTM provides a comfortable, shock free grip to improve accuracy with each draw of the bow. The new front to back low flex risers round out the precision enhancing mechanisms you'll find on this superb compound bow, permitting greater accuracy than that delivered by traditional side to side flexes.
Personalized Fit
Right and left handed 29" draw length bows come in Mossy Oak Break Up Infinity Camo and are available in 60 and 70 pound draw weights. Accessories include: four Carbon Force Hunter Arrows, Mongoose Quiver, Supreme Bowcase, Nock Loop, QS Whisker Biscuit, Tru-Fire Hurricane Release, PSE Neoprene Sling, Aries Sight, Peep Sight, and Flexxtech Stabilizer.The Bottom Line
Considering the state of the art characteristics of this compound bow, the PSE Madness XL is not only marketed as one of the most well-designed single cam bows on the market today, it really is. Try Precision Shooting Equipment's latest offering and experience the difference for yourself!
PSE Madness XL Compound Bow on eBay
More PSE Compound Bow Reviews



The PSE Nova compound bow is an excellent choice for archery enthusiasts of any age or experience level. It offers a revolutionary design idea that allows for adjustment of draw back and weight that spans a wide enough gap that this bow becomes suitable for young beginners or skilled hunters alike. The PSE Nova Compound bow has been created with comfort and ease of use in mind. PSE Compound Bows




PSE Chaos

Description Coming Soon




Just when you think you've seen it all as far as compound bows go, Precision Shooting Equipment revolutionizes one of their best selling models. The PSE Madness XS compound bow is the most comfortable, high performance compact compound bows you can find. With the PSE Madness XS compound bow, there's no need to compromise speed and accuracy for the sake of portability.
PSE Madness XL Compound Bow Review