Parker BlackHawk XP Compound Bow Review
Parker BlackHawk XP Compound Bow Review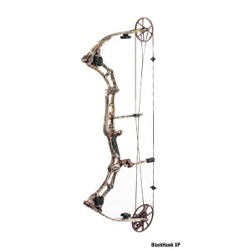 The Parker Blackhawk XP released for 2009 lives up to the high standards of the Parker name. The new Parker Blackhawk XP has all of the highly sought after features of those released in earlier years, along with a few new additions that make this bow even more appealing to hardcore archers.
This year's Parker Blackhawk XP boasts of the new addition of the EZ-Draw cam system. This makes the draw smoother than models without this innovative design. In keeping with its original design, the bow weighs in at less than 4 pounds. This allows for less fatigue and easier maneuverability during those long hours in the stand. With 80% let-off, the E-Z Draw cam system, the draw weight of the bow seems to be less, especially in those instances when you have to draw back and hold for the perfect shot.
The Parker Blackhawk XP is equipped with Parker's Quad-Vent risers. This new design method results in a lighter, stronger bow. By strategically machining vents in the risers in precise locations, the weight of the material in the risers is reduced while the risers become stiff in areas of high vibration. This results in a quieter bow that is easy to shoot and carry while hunting.
With the 2009 Parker Blackhawk XP, the need to buy after-market sound dampening accessories is virtually eliminated. Embedded in both the risers and the limbs, hunters will find Sims limb savers. This not only eliminates noise caused from vibration, but eliminates the need for costly accessories attached to the bow. One of the most desired features of the Parker Blackhawk XP is the string suppressor system along with vibration reducing Sims string leeches. This allows your arrow to be launched without the noise that can cause your game to jump or flinch.
This Parker Blackhawk XP bow is designed with Next G-1 camouflage, which aides in becoming undetectable in the field. Along with it's innovative modern design and bronze accents, this bow is not only one of the most effective pieces of archery equipment on the market, but a sleek looking bow that will become the envy of your fellow hunters. Parker Blackhawk XP not for you? Learn more about Parker Blackhawk xp.
Parker BlackHawk XP Compound Bow On Ebay
Parker BlackHawk XP Compound Bow Review