Diamond Archery Justice Compound Bow Review
Diamond Archery Justice Compound Bow Review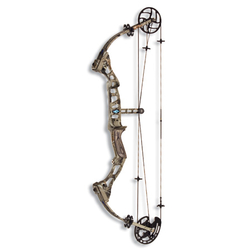 The Diamond Archery Justice compound bow can fit into the tightest of places. For the hunter who hides behind the visage of a ground blind, this is probably one of the single most important metrics for judging a piece of archery equipment. Without having a small, compact frame, one's mobility is seriously restricted. This is not so, however, with the Diamond Justice compound bow.
The draw weight range is around 50 – 70 pounds and has approximately a 65% - 80% let off. Diamond Archery didn't forget to provide a useful speed, which the company lists at around 286-294 fps. For a bow of this size, that is quite an impressive number. The weight is exceptionally light at only 3.6 pounds, and many hunters will appreciate the mossy oak camouflage pattern that the Diamond Archery Justice compound bow comes equipped with.
The compact design is not at the expense of any other features, either. The Diamond Archery Justice compound bow has all of the functionality of its bigger brothers, without the bulkiness. This means agility, and a great deal of it. Plus, the seven-inch brace height is far more forgiving than a tighter design. This translates into more power for the archer.
Moreover, all Diamond Archery bows are equipped with a factory-installed kit. The factory tests and tunes all accessories of the bow. The rubber grip is also a nice feature. It is comfortable, and fits well into the hand. With this sort of well thought out design, the Diamond Justice compound bow is an excellent design for any case where an individual needs to be in a tight space or even a tree stand. The Diamond Justice compound bow is a Great Choice.
Diamond Archery Justice Compound Bows On Ebay
More Diamond Archery Compound Bow Reviews
| | |
| --- | --- |
| | The Diamond Archery Marquis Compound Bow is the perfect tool for bow hunting. This bow is like no other and will land you more game than any other bow on the market. |
Diamond Archery Justice Compound Bow Review