Alpine Archery Silverado Compound Bow Review
Alpine Archery Silverado Compound Bow Review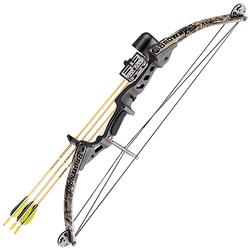 Durable Dependability, Season after Season
The Alpine Archery Company has been making some of the finest bows in the woods for decades. Their flagship compound bow (Alpine Archery Silverado) has long been the durable, professional-grade Compound Bow. This quality-built weapon shows up season after season, hunt after hunt, with the kind of reliability you can rely on when antlers are on the line. Every generation of Alpine Archery Silverado packs the tested genetics of the line, with the kinds of technological upgrades that make it faster, quieter, and more accurate.
When you are working hard to contain your enthusiasm while drawing on a 10-point buck, pacing your breathing, your efforts to control the shot are enhanced by the most stable riser in the industry. Vibration dampening technology on the Alpine Archery Silverado produces a release that is smooth and quiet every time. Draw weights of 60 lbs and 70 lbs with adjustable draw lengths produce an impressive velocity of over 320 fps. This bow sets up quickly with some practice time at the range, so that on opening day you're sporting a bow with a customized fit to your shooting specifications. The newly designed Velocitec Cam stores and release kinetic energy with gusto through the Bi-Flex composite limbs. This bow that has stood the test of time is dipped in Mossy Oak Treestand camouflage and is highlighted a stunning one piece rose wood grip.
The Alpine Archery Silverado compound bow is the right choice for moderate to experienced hunters everywhere. Take time to maximize its potential by getting familiar with its abilities on the range or in the back yard. Silverados are available used for $399 to $450, while new bows run $699 to $800.
Looking for New. Camo Alpine Silverado Compound Bow RH 60 LB with a 28 Draw - $799.95
from: Great Sports Inc
Alpine Archery Silverado Compound Bow On Ebay
More Alpine Archery Compound Bow Reviews
| | |
| --- | --- |
| | Not every bow is a bone-crushing bruiser delivering payloads at 330 fps or better. Not every bow has to be. One secret that every great hunter knows is that when it comes to quality compound bows, accuracy trumps speed every time. |